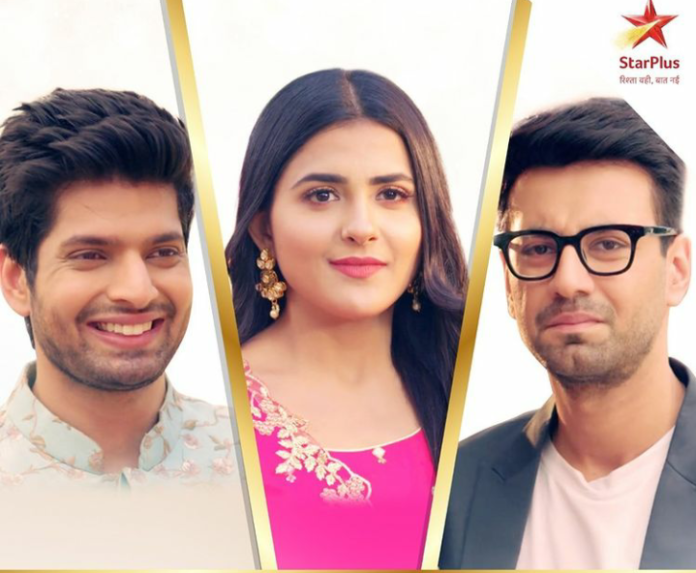 Shaurya Aur Anokhi Ki Kahani 10th May 2021 Written Update on SerialGossip.in
The episode starts with Anokhi and Babli sleeping hugging each other. Anokhi notices her diary with her and Shaurya's name written in it. She worries for him while Shaurya is struggling being tied up. She strikes Shaurya's name from the diary. Anokhi gives medicine to Babli and Babli asks her to give medicine for Fear like pain. She's about to have it when Anokhi stops her. Anokhi's says she can't take medicine on empty stomach. She suggests to have food downstairs but Babli's worries about getting caught by Vineet. Anokhi gives strength to her and assures her that she won't let Vineet hurt her. Devi is looking at the clock continuously. Tej is checking arrangements and asks Devi to not worry. Devi is extremely worried. Aastha too gets her father's call and she lies that Shaurya is with her. Gayathri assures Devi that Shaurya will be fine. Devi wishes for Shaurya to return safe.
Anokhi brings food for herself and Babli. She recalls their childhood memories but Babli is stuck in her trauma. Anokhi asks her to overcome it but Babli couldn't do it. Kanchan comes there and enquires Anokhi if everything is OK after yesterday's incident. Anokhi takes her aside in order to not hurt Babli while Kanchan notices Babli's wounds.
Kanchan asks Anokhi if the marks on Babli's face is because of her husband. Anokhi says yes and Babli asks why didn't she complain police about it nor women welfare. Anokhi says she's trying to say the same but she doesn't have courage to do that. Kanchan says she can understand her fear as from childhood girls were taught the same. She asks Anokhi if she can speak with her and assures her that she won't increase her pain.
Phone bell rings and Devi panics. Shaan says it's cell phone call from college. Tej calms her saying that they will receive the call. Kanchan gives coffee to Babli. Anokhi asks Kanchan why's she here when the rest of the family is in Sabherwals villa. Kanchan says that she wants to be herself before being a wife or daughter in law. She says that Yash loves her a lot but she can't lose herself in the process. Kanchan says that it's the right for every woman to fight for herself and her identity. Yash comes there and Babli leaves with him. Yash asks Kanchan what's the relationship between Anokhi, Babli and Vineet as he saw their pictures in his phone. Kanchan asks him to let it go and lifts up his mind. Anokhi asks Babli to think about Kanchan's words.
Vineet is frustrated when lenders called him. He decides to call Shaurya's family when he spots Anokhi and Babli having food. He gets angry at their boldness and deal with them first. He goes there and shouts at them. He drags Babli forcefully and Anokhi tries stopping him. He says that no one keeps a left away girl and drags Babli again. Anokhi sprays sauce on his face and runs away with Babli.
Devi lashes out at Tej for calling police which is why the kidnapper didn't call them. Shaan too agrees with her and Tej shouts at them to have patience. They decide to wait. Vineet catches Babli and Anokhi and is about to slap Babli when Anokhi stops him. She slaps him hard shocking him.
Precap : Anokhi finds Shaurya's watch and confronts Vineet as she learns about him kidnapping Shaurya. She comes to Sabherwals.
Click to read: