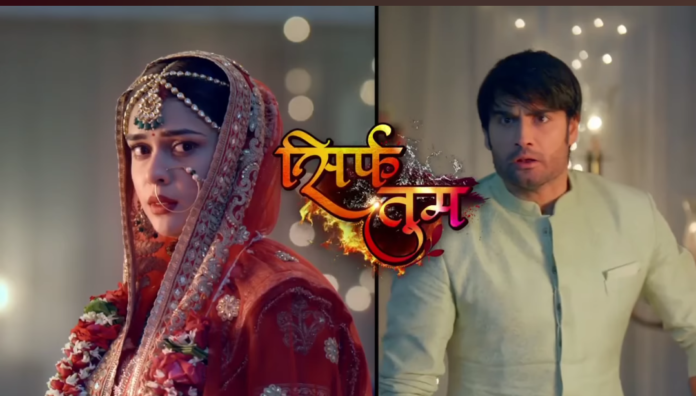 Sirf Tum 16th June 2022 Written Update on SerialGossip.in
The episode starts with Suhani's family talking to an experienced person about Suhani's case and he says that it's complicated and they should request the person to withdraw the case who filed it and it should not go to the court. Ranveer comes and holds him by his collar. Rakesh tells Ranveer to calm down. Ranveer says he knows Vikrant well and noone will request him for anything as he won't take back the complaint. Suhani agrees with Ranveer.
Suhani and Ranveer go to meet Kartik's family who was the incharge of the cctv cameras. Kartik's wife worries for him as he is not back yet. Ranveer and Suhani learn that tomorrow is Kartik's daughter's birthday and he never forgets to wish her.
Suhani and Ranveer decide to wait for Kartik at midnight to catch him. Suhani bumps into Kartik who has covered himself with Burkha. Suhani calls Ranveer and the latter tries chases Kartik. Kartik gets inside a car with Ansh and leaves. Ansh thinks he won't let Ranveer become successful. Ranveer fails to catch him.
Sudha tells Rakesh to light the Diya and Rakesh gets tensed thinking Suhani got the proof or not as they only have time till tomorrow. Suhani and Ranveer come back and Suhani says they are trying to collect the proof but didn't get it yet. Rakesh gets disheartened and says Suhani's life will be ruined and he can't do anything. He breaks down to tears everyone consoles him. Suhani says if she goes to jail, she will return back later and will fulfil all the dreams. Rakesh cries hugging her.
Ranveer looks upset and goes out. He recalls Vikrant's condition and Suhani comes to him. She asks him why he is not facing her. She shows him shooting star and asks what he wished for. He replies he wished to get her only. She says but they cant change the destiny. She can understand his feelings and he doesn't need to explain that. She says she just wants to remember this moment forever which they spent together. She rests her head on his shoulder saying this moment will stay inside her heart forever and whenever she will close her eyes, she will feel his presence beside her.
She asks Ranveer to take care of her family in her absence. Ranveer gets emotional and he assures her that he won't let anything wrong happen to her. If she trusts him then she should believe that he will save her. He is about to leave and she asks him where is he going? He tells her to trust him, he will make things right. Ranveer goes to meet Vikrant and says once a businessman, always a businessman. He accepts the condition and agrees to marry Riya.
Vikrant gets happy to hear that while he was talking to Shashi on a video call. He tells Shashi that Ranveer accepted the deal. Shashi tells Ranveer that he did the right thing. Ranveer leaves and finds Mamta. Mamta asks him that how he couldn't prove Suhani's innocence when he was so sure about that. She also had faith in him. He replies that he said he will save Suhani and he can sacrifice anything to save her. He is doing that only.
Episode ends
Click to read