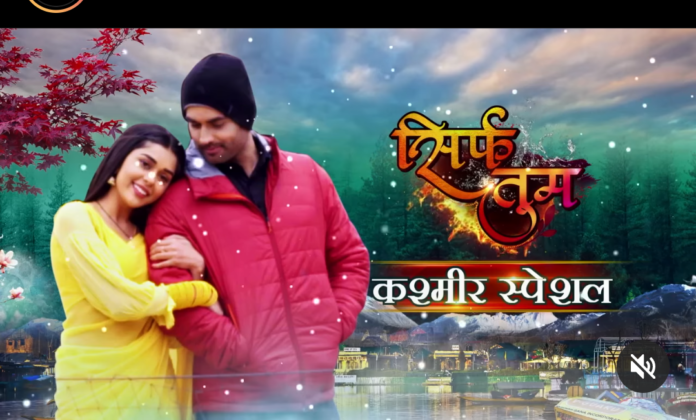 Sirf Tum 21st June 2022 Written Update on SerialGossip.in
The episode starts with Ranveer assuring Suhani that he will not leave her for a second. Rakesh comes and asks him to go back home with Suhani. Suhani gets emotional and says she was hiding her pain in front of her family but she fears losing Ranveer. He calms her down. She says she will become wife of a cute guy.
Ranveer smiles at her and then he gets a call. He leaves with Suhani. Riya tries to shoot herself and tells everyone to stay away from her. Mamta says she should just listen to them once. Riya gets mad at her as she only told Ranveer to leave the mandap. Now it seems he won't be back so she will end her life. Shashi says he can't live without his daughter. He curses Vikrant and Ranveer. Riya is about to pull the trigger but Ranveer arrives with Suhani.
Ranveer tells her not to do that. Riya says she knew he will be back as he loves her. Ranveer replies he loves her but as a friend only. Riya gets furious at Suhani and asks what she is doing here. She already ruined everything. Ranveer reminds Riya of her friendship with Suhani.
Riya says Suhani is her enemy not friend. She says she will shoot Suhani. Ranveer tries to convince her saying she knowingly wants to hurt him but Riya says if he can't love her then atleast he can let her die. Shashi talks to Riya and in the meantime Ranveer snatches the gun from her and saves her from the fire. Some men extinguish the fire.
Riya cries and Ranveer says he wants to talk to her with Suhani in private. Ranveer tells Riya that it was his fault he didn't take care of their friendship and didn't sort out the issues. But it's true that he can't be happy if Riya remains unhappy. Riya understands his situation finally says she made a mistake by hurting her best friend Suhani.
She tells them that they are made for each other. She teases them saying if she asks them not to marry each other, can they agree? She then says she was kidding. Ranveer says mockingly if she feels Suhani is not right for him then he won't marry her. Suhani yells at him.
Mamta prepares aarti thal and Vikrant shouts at them saying what nonsense they are doing. Dadu says Ranveer didn't do anything wrong but he won his love today. Ranveer enters the mansion with Suhani and Mamta performs their aarti. Mamta apologises to them both and blesses Suhani saying she will becime a great doctor one day. Suhani and Ranveer take everyone's blessings but Vikrant asks them how dare they? Ranveer says he is introducing his would be wife to his family, nothing else.
Vikrant shouts at them saying its his house and Suhani has no right to stay here. Ranveer says he should behave politely with Suhani else he will forget Vikrant is his father. Vikrant says Ranveer will regret and father is always greater than son. He will have to pay for this. Ranveer says he is scared of his threats but he can also show his anger. Vikrant disowns Ranveer from his property, Ranveer says he doesn't care as Mamta's blessings and Suhani's love are enough for him.
Vikrant says whoever wants to support Ranveer, he will not support them. Mamta says she will support Ranveer and Suhani, Dadu says he has been supporting Ranveer from day one. Samaira also sides with Ranveer and Suhani. She says sorry to Roshni. Vikram says he will not leave Vikrant's side. Mamta, Dadu, Samaira, Suhani and Ranveer hold each other's hands and show their unity. Vikrant gets irked.
Episode ends
Click to read