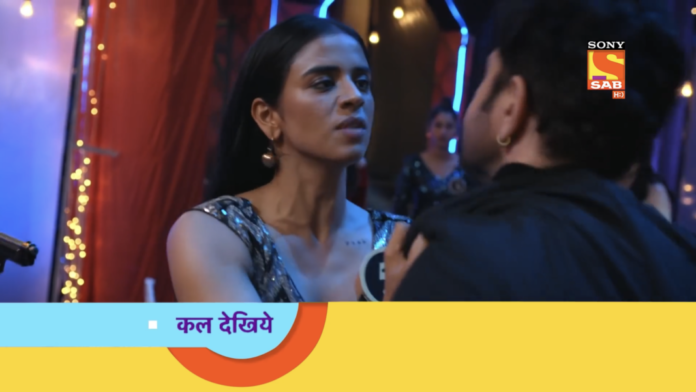 Ziddi Dil Maane Na 26th February 2022 Written Update on SerialGossip.in
The episode starts with Kanu threatening Palli to accept the job. Palli puts sand on her face and snatches the gun back. He points it at her and mocks her. She takes forward at gun point and warns her man too. He left with his truck pushing her away. Sid is saying to Monami about his condition. Monami says that she knows that he loves her and asks him to give her some time. He asks about her love story. He teases her abs Sid says Karan will also be stuck with mission and won't have time for her. Karan is busy in his mission. Monami asks what's he trying to say. Sid says they need to declare their relationship to make it official. Sid warns her to not take any thing easy and make a first move. Karan and Faizi are discussing about Kanu. Monami comes to her room and thinks to speak with Karan.
Karan says that whatever they were going to do this time is really big. He gets Monami's message and alerts Faizi that Monami is coming there. Karan opens the door for her and asks if there's something important. Monami says nothing important and asks why that didn't happen between them. Karan asks what and Monami says the thing which happens between boyfriend and girlfriend. Monami tries getting romantic with Karan and Karan feels embarrassed. Faizi is watching them. Monami is about to leave with his less involvement and Karan stops her. He sends her out when she talks about kiss. Monami gets frustrated and blames Sid for it.
Palli is calling out for his friend for drink and when he doesn't come he himself goes to drink it. Kanu comes there and Palli mocks her. Kanu asks his friend Chaddi to spread the money by Kanu and lies on it. He feels satisfied and Kanu says that he should do her work. Palli doesn't agree. Mr. Mahajan lashes out at Anish and says about Karan and Monami coming close after their mission. Anish was surprised with mission news and Mahajan scolds him. Sanjana comes back to academy and everyone welcomes her. Anish thinks that he will not let Monami get close to Karan. Palli says that the job she's assigning risks his life and demands 24 hours time to think. Kanu says she won't let him back off and leaves the money with himself. Chaddi asks why he's not agreeing and Palli says that he doesn't do job only for money but for fun too.
Precap : Palli will misbehave with Monami when she's out with Karan. Monami will be shocked to see him.
Click to read