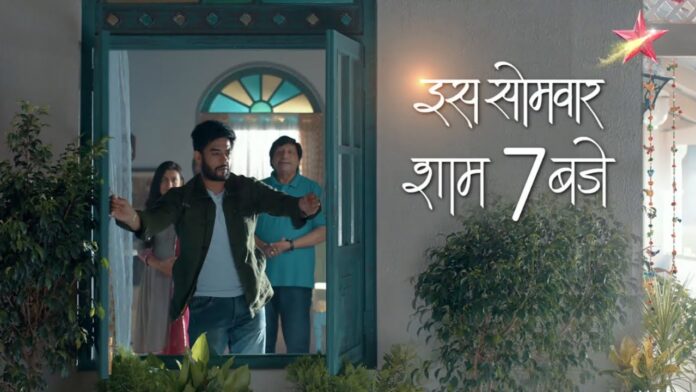 Zindagi Mere Ghar Aana 29th November 2021 Written Update on SerialGossip.in
The episode starts with Kamali commenting that Pritam doesn't have any experience of raising a child. Amrita asks Kamali to be quiet and asks if she has to massage using her palm. Pritam nods yes. Amrita does as he said. Pritam says that she's doing wrong and says her the right way to do the baby's leg massage. Amrita asks Pritam to leave saying that she's Ansh mother and she will do as she was taught.
Pritam says that he also has some relation to Ansh. Amrita asks what relation he has with Ansh. Pritam says that he's Ansh tenant and he won't wrong to happen with him. They argue. Kabir arrvies there getting ready for the office. He asks them to not fight with each other. Kabir apologizes to Amrita for not being able to come to the station to see off. He says that he can take leave today if she wants. Amrita asks to leave for office.
Pritam asks Kabir why Amrita is going to the station. Amrita asks Pritam to mind his business. She takes Kabir down to feed him curd and sugar. Pritam asks Kamali where Amrita is going and she says that Amrita is going to Ludhiana to attend her Chacha's daughter wedding.
Kabir arrives at the office with the boss. Kabir complaints to his boss that he didn't get any grant welcome. The boss asks the staffs to welcome Kabir clapping hands They obey. Kabir asks where Meera is. The boss says that Meera went to Jaipur with her whole family. Kabir wonders why Meera hasn't informed him about it and thinks that Meera is worried about Naveen. Pritam and his friends discuss about their plan to go to Ludhiana.
Nithin asks Pritam how he will enter Punjab, Bedi asked his men to not let Pritam in. Pritam says that Pritam will not go to Ludhiana, but Sakhuja family. He will go as a member of Sakhuja. Pritam tells about Amrita is also going to Ludhiana and her train tickets aren't yet confirmed and it won't happen, then Amrita has to come with him. He asks Monty to prepare his fake ID on Karan Sakhuja's name. Monty agrees.
Angad checks if Amrita's train tickets got confirmedconfirmed and says that the tickets didn't get confirmed. Guneet scolds Angad. They wonder how Amrita will go to Ludhiana. Angad decides to check if there is any tickets available for evening. Pritam arrives there and offers Sakhujas to send Amrita with him in car by road as he's going to Ludhiana too. Guneet and Nimmo don't want to send Amrita and Ansh by road. Pritam assures them he drives safely and also Angad comes with them. Amrita refuses to go by road. Pritam provokes Amrita saying that she is scared of going by car and she road sickness.
Amrita denies it and says that she traveled more than Pritam and never got any road sickness. Pritam tries to convince Amrita to come with her. Angad says that there is no any tickets available for evening. Sakhujas convince Amrita to go with Pritam. Amrita agrees, but says that Angad will drive the car. Nimmo cries saying that she will miss Ansh. Amrita says that she will also miss them and wishes that they all could have come too. Dadaji says that she can't them everywhere. Amrita looks on confused. Dadaji cracks a joke and covers it.
Nithin and Manoj give Pritam his fake ID on Karan's name. They say that he's using Amrita. Pritam says that they both are helping each other, he needs a way to enter Punjab and Amrita wants to go Ludhiana. He will take them safely and then their ways will be different. Pritam assures Sakhujas to take Amrita to her home safely. Biji says that she's worried for him and adds that he doesn't know Amrita. Angad gets an emergency call from office and tells his family that there's IT rade in his office and he has all the files, so he has to go to the office. Nimmo asks then how Amrita will go to Ludhiana.
The episode ends.
Precap: Amrita talks about Karan to Pritam. Dadaji tells that Yuvraj is the groom who has come to see Amrita for marriage. Nimmo overhears this and creates a scene.
Click to read