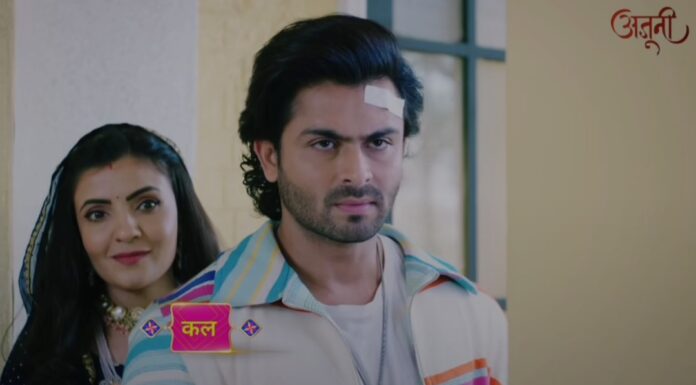 Episode begins with cliffhanger is about to fall on Rajveer but he moves from there on right time. Servant says that these things are old so it would have fell down. Rajveer says that his fate is weak nowadays. Ajooni tells him that she is scared and they should return to Bagga house. But he refuses to leave. He tells Ajooni to cook for them.
On the other hand, Ravinder tells Bebe that he sent Rajveer to farm house but he is scared about his son's safety. He says that Tejinder is roaming outside freely. Bebe asks him that how can he get scared of Tejinder. He tells her that Tejinder never fights face to face, that's the problem. He informs her that Tejinder cut his man Rana's finger. Shikha comes there and gives tea to them and leaves from there. Bebe tells Ravinder that they are facing problems for the mistake his father did in the past. He tells her that his father has been trapped.
Servant removes his fake beard and it turns out to be Harsh. He calls Shikha and tells her that he is staying in servant room. Shikha asks him to not return without killing Ajooni and Rajveer. In the kitchen, Ajooni cooks food for her and Rajveer. Harsh mixes poison in the kheer without Ajooni's knowledge. Ajooni calls Rajveer to have dinner. They sits to have dinner. Rajveer tells Ajooni to eat first. She asks him that what's the problem. He feeds her. They starts eating. She tells him that she made kheer for him.
On the other hand, Tejinder wakes up due to nightmare. His man tells him that Ravinder is searching the latter to kill him. Because Ravinder thinks Sanky sent goons to kill Rajveer. Tejinder says that Sanky ruined his life. He learns that Sanky left for nearest village. Meanwhile, Ajooni is about to serve kheer to Rajveer. Light goes off. She throws the kheer bowl in fear when cat came there. She gets worried that kheer got wasted. Harsh sees everything.
Next day, Rajveer learns that cat died. Harsh tells him that it looks like cat ate kheer yesterday. Dolly and Sanky fights to park the car. Dolly taunts Sanky. She warns him to leave from there. He is about to slap her. But Tejinder stops him and slaps him for trying to slap Dolly. Dolly tells them that she is not their relation. Tejinder scolds Sanky and he takes his son from there.
Ajooni finds knife in the suitcase. She wonders that how it came. Rajveer tells her that he brought it for his safety. He informs her that cat died after eating the kheer she made. She asks him that if he suspect her. He tells her that what can he do and leaves from there.
Tejinder brings Sanky to Bagga house. He orders his son to apologize to Ravinder. Ravinder asks him that who attacked Rajveer. Tejinder says that Sanky attacked Rajveer.
Episode ends.
Precap – Rajveer tries to stab Ajooni. Someone shoots them.