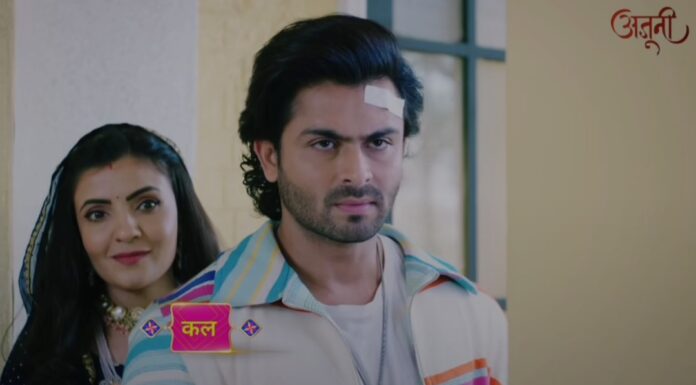 Ajooni Spoilers, Upcoming Story, Latest Gossip , Future Story, Latest News and Upcoming Twist on SerialGossip.in
Shoaib Ibrahim and Ayushi Khurana starrer Ajooni is Star Bharat show. This show is about how, despite coming from a middle-class family with strong family values, Ajooni is compelled to marry the guy she despises the most.
Now, Rajveer thinks that Ajooni is having an affair with Harsh that's why she want to kill him so it will be intresting to watch that what going to happen in the future episodes.
In the current track, Harsh informs Shikha that Rajveer is inside the Holika. Ajooni informs Baggas that Rajveer did not return yet. They searches Rajveer. Ajooni finds Rajveer inside the Holika and she tells about it to Ravinder.
Baggas takes Rajveer inside the house. Later, Shikha asks Rajveer to not misunderstand that Ajooni saved him. She lies to him that Ravinder found him first. She tells him that Ajooni want to get rid of him so Ajooni could live with Harsh.
Ajooni prays to God to return Rajveer's memories to him. Aman asks Ajooni to not worry about Rajveer. Ajooni gets upset that Rajveer won't break her fasting even though he is in front of her.
Rajveer wakes up and breaks her fasting and it turns out to be Ajooni's dream. Next day, Baggas celebrates Holi. Rajveer ignores Ajooni.
In the upcoming episode, Ajooni will apply colour on Harsh face assuming him as Rajveer. Shikha will show that to Rajveer. She will say that Ajooni become shameless.
How Rajveer will react now? Will Ajooni realise her mistake?
All these questions will be answered in the upcoming episodes.
To know what will happen next in your favorite show Ajooni, stay tuned to this space.