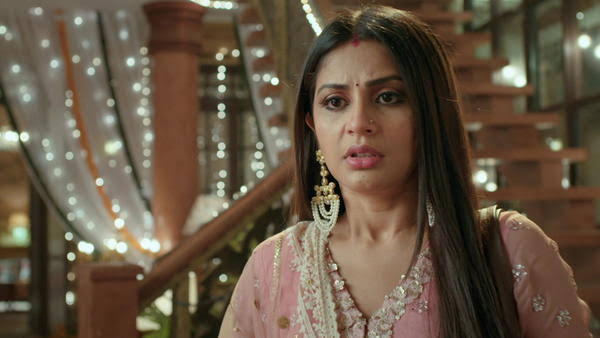 Imlie 10th March 2023 Written Update On Serialgossip.in
The episode starts with Rupy asking Imlie to give another chance to Arto. Devika says why even after knowing the truth Arto is not stopping Imlie. He replies he knows his own truth so he doesn't want to force anything on Imlie. She should do what she wants. Imlie stops Chini from leaving and pretends to apologise saying if the latter is hurt then also she can't do anything about that. Imlie takes back her own dupatta from Chini saying now she won't let Chini take away anything from her. Arto recalls first time he met Imlie at the concert. He goes close to her and holds her hand. He says he felt her presence for the first time in that dupatta. He was attracted towards her and her poems from the start without even seeing her. He adds it was always Imlie but Chini came between them. He pours his heart out for her saying how important Imlie is for him. He says they can start afresh if she wants. He says that's his own feelings completely and he feels nervous. Imlie says now there's nothing left here for Chini here. Arto gets confused and asks Imlie clearly what she feels? If she will really stay back? She smiles at him and nods yes.
Chini leaves with her luggage and thinks soon she will be back to take her revenge from Imlie. Arto sits next to Imlie and feels hesitant to talk to her. He says he cant believe she stayed back with him. He asks her why she got stuck with a person like him. He stammers and asks her to say those three words. He tells her to feel relaxed. He tries to leave and she says I Love. He gets stunned and looks at her. She can't finish the sentence but starts coughing due to smoke. Arto also tries to find out from where the smoke is coming. He suddenly gets disappeared and Imlie searches for him. Imlie checks the whole Rana House but sees all the things got messed up and no family members are there. She recalls Chini's plannings. She says today Chini crossed all limits by kidnapping her family. She won't spare her.
Rana's are taken to a godown and they ask the goons why they brought them here. Chini comes in front of them and says she hired all these goons to kidnap them. Everyone gets shocked seeing that. Chini tells Rudra to bless her for her wedding with Arto. Rudra denies, Chini hurts Ginni and Arto's younger brother and Arto shouts at her. Ginni says Chini is not their bhabhi but Imlie is. Chini pulls her ear forcibly. Later Chini gets close to Arto and the latter asks her if she has gone mad. He will never marry her, she knows it. He loved Shayara and that's not Chini. Chini says she will put efforts to get him she told him and he should practice the old lines that he only loves Chini and noone else. He says the discussion is over then why she is doing all this. Chini says the there will be no further discussion but they will directly get married tonight.
Precap- Imlie and Arto take pheras around the holy fire. They take their own vows where noone can come between them and create rift between them. After pheras one guy gets up and calls Imlie. He says he is Dhairya. Imlie looks on.