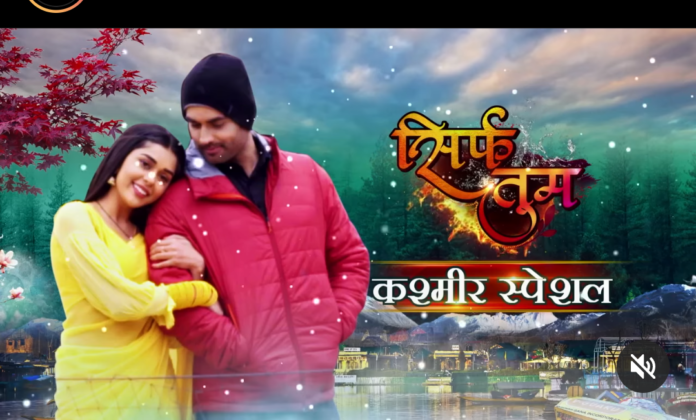 Sirf Tum 21st July 2022 Written Update on SerialGossip.in
The episode starts with Suhani saying she wants to leave the place with her family wants to start afresh. Sudha asks her not to take decision desperately just because Ranveer stopped her NOC. Why would she ruin her career and leave studies? Suhani says she has no other choice as they have financial crisis right now and for Ishan's studies, Rakesh's treatment she needs to do to a job. Sudha says being a doctor was not just her dream but her parent's dream too. Suhani says she wants to keep Ranveer away from herself and she would anything to maintain a distance from him. Ranveer refuses to eat and Mamta scolds him saying for how long he will keep avoiding food. Samaira brings special cookies for Ranveer which she made. She insists him to have it and he eats one.
Sudha comes to the mansion and scolds Ranveer. She says Dadu and Mamta can't unite Ranveer and Suhani by their regular visit, when Ranveer always insults Suhani and mistreats her. Sudha adds Suhani is adamant to leave the city just because of Ranveer. He should not stop her transfer else she will leave her studies. Ranveer says he wants to save her career but she is doing wrong by taking transfer. Sudha requests him to sign the NOC papers so that Suhani can continue her studies in some other college. She leaves and there Suhani makes all the arrangements with her family to leave the city. They finish the packing.
Mamta tells Ranveer to not stop Suhani from taking the transfer. Ranveer says he did it for Suhani's good future to which Mamta says his family can understand his good intentions but not everyone. If Suhani wants to continue her studies somewhere else then he should sign the NOC papers. Ranveer gets upset and next day he rushes to Suhani's house with the signed papers. John calls him and asks him if he reached.
Ranveer says he will give Suhani the papers and she should not do this. John says but that depends on her choice. They can't do anything. Ranveer sees the Suhani's house door is locked from outside. He asks a lady about Sharma family. She says they left early morning but where they are going she has no idea. Ranveer is shocked to hear that.
Suhani is going to Rampur with her family in an ambulance and Dadi asks her how she managed to get the transfer. Suhani says she went to Medical Council and requested them to accept her transfer application as she is having financial crisis. Her father is not well and she cant bear the huge expenses of this best college. Just because her husband is not signing the NOC due to some personal reasons, her transfer should not be stopped. She doesn't want to be around him. Medical Council accepted her request and she thanks them. Suhani thinks now she can start afresh and Ranveer's thoughts can't reach her. Ranveer gets angry and says Suhani wants to go far away from him, then he won't stop her. He will never see her face again.
Suhani reaches the new house with her family. She changes the sim cards of Sudha and Dadi's phone saying they need to forget those old memories to make new ones. She then apologises to Rakesh as they left their old house because of her. They have memories there. Sudha tells Suhani not to feel bad. At night Suhani falls asleep with her family and suddenly sees someone's shadow. She asks who's there and she hears Ranveer's voice who says she can't get rid of him as he will find her always. She asks him to leave but he says he is feeling guilty for not treating her well. He wants her back in his life, she says but it's too late now. He says he will promise he will never hurt her again and they will be together always. Suhani says if he is telling the truth then she won't leave him too. She then finds noone in the room and Dadi turns on the light. She asks Suhani whom she was talking to? Suhani gets surprised.
Episode ends
Click to read