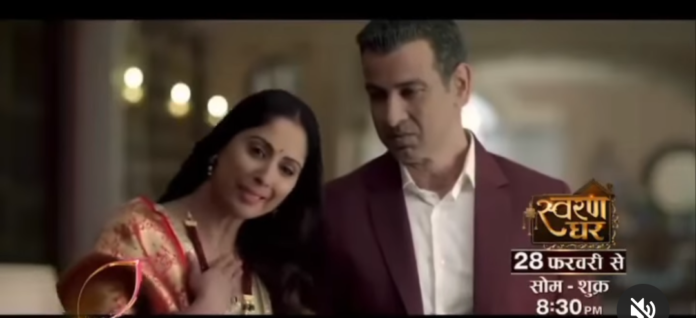 Swaran Ghar 16th June 2022 Written Update on SerialGossip.in
Today's episode starts with Swaran praising Ajit's mitti churi. Yug says that Kanwaljeet use to love mitti churi made by Swaran. Ajit says that wish he could make Kanwaljeet eat his mitti churi. Swaran, Ajit and Yug discuss about Bebe, how to deal with her. Swaran says that Ajit is matchless when it comes to fighting with someone but he has to deal Bebe's case with love. Ajit says that he usually loves actions but is ready to deal Bebe with love and make his place in her heart.
Bebe and Vikram discuss about Ajit. Bebe says that he is not able to tolorate him. Vikram says that Ajit had manipulated Kanwaljeet so he didn't mention his sons in his will but mentioned him. Kiran comes there and asks Bebe to kick Ajit out of Swaran Ghar. Nimmo hears the conversation secretly. Bebe instructs Kiran to call Nimmo. Nimmo says that Swaran has destroyed Kanwaljeet's reputation in his absence. She also says that Neighbors came to kick Swaran out of locality but Vikram saved her. Nakul tries to object but Kiran again reminds him about his choice between Swaran and Ajit. Nakul keeps quite.
Arav starts quarrelling with Dillu. He blames Dillu for breaking his cookies jar with his ball. Bebe and others come there and starts scolding Dillu. Divya comes there and protects Dillu from Bebe's warth. Divya questions Bebe if she doesn't know how to talk to a kid. Nimmo says that Divya is Ajit's daughter. Swaran, Ajit, Yug come there. Ajit hug Dillu. Divya tells Ajit that she has come to take Dillu with her. Dillu says that he wants to stay with Ajit. Ajit says that he wants to keep Dillu with him for a day. Divya says that Jai and Ankita are worried for Dillu after whatever happened in the market. Divya says that Ajit's responsibilities has increased but they understand his situation as Ajit made things clears with them. Divya leaves with Dillu.
Bebe says that Ajit was about to lose his grandson while worrying for his friend. She asks Nakul if he had ever neglected Aarav for a friend. Nakul looks at Kiran and says no. Bebe introduces Bedi family to Ajit and asks him about his identity. Ajit says that the bond of friendship is something onr has to earn unlike family relations. He adds that there are many conditions in a family but in friendship there is no condition except supporting your friend in every situation. Bebe asks Vikram to tell Ajit to leave Swaran Ghar and go back to his family. Ajit says that will not be possible as he will not break his promise made to Kanwaljeet. Ajit leaves.
Ajit and Yug have a fun chat where Ajit gets mesmerized thinking about Swaran. Swaran prepares breakfast for everyone. Aarav comes to Ajit and Yug. He asks Ajit if he will play with him. Aarav says that he miss Kanwaljeet very much. Ajit says that he has solutions for everyone's problem be it Aarav or Yug. Bebe hears music playing outside. She goes to check. Yug dances with Aarav. Ajit and Swaran smile seeing them. Bebe hides behind a bim and sees. She feels that Swaran and Ajit are smiling looking at each other. The episode ends.
Precap – Bebe asks Vikram to call his wife and daughter to stay at Swaran Ghar. She instructs her grandsons to handle the business of Swaran Nikhar. Yug tries to object. Bebe says that Swaran's only responsibility is to look after her family.
Click to read