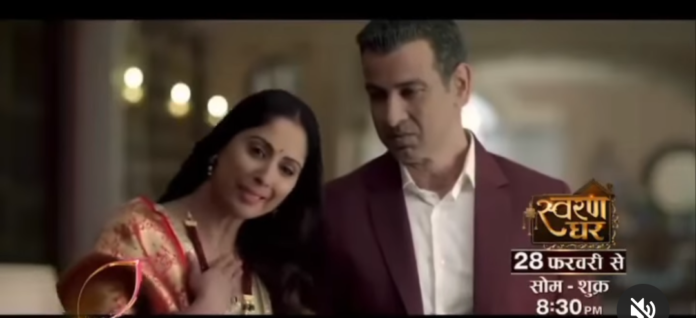 Swaran Ghar 1st March 2022 Written Update on SerialGossip.in
Swaran does sradh ritual. Ladies in kitty party clap for Nakul's birthday as Swaran cuts his birthday cake . Nakul dances with her girlfriend and friends in the club, suddenly he gets a call and comes out being distributed. Kanwaljeet calls him to ask about his condition and if any party is going on. Nakul says yes .Kanwaljeet sarcastically wishes him to be happy after making his mother upset. He scolds him for misbehaving with Swaran and tells that he can never behave the same way with his would be mother in law . Nakul gets irritated as he realises that his father calls him to complain about the video call incident. Nakul tries to justify his act saying he was sleepy when Swaran called him and he was sleep deprived last night. Kanwaljeet reminds him how his mother swaran sacrifices her years of sleep while raising her 3 sons. He also adds how Nakul doesn't call at home even for once a month but he gets all time to call his girlfriend Kiran. Nakul says that Kanwaljeet is saying all these to him because he has problem with Kiran, Nakul's girlfriend and he couldn't forgive her yet. Kanwaljeet asks Nakul to call Swaran and asks for forgiveness. After that Kanwaljeet cuts the call abruptly.

Nakul gets frustrated and says no Matter how much he does for these people it's never enough to satisfy them. He starts walking angrily. A car comes from opposite side and hits him. In the party, Swaran gets hiccups. She gets worried for Nakul and says whenever Nakul lands in some troubles she gets hiccups. Her friend tries to calm her down saying that Nakul must be remembering her mother as it's his birthday. On the other hand, Nakul's brother and girlfriend runs towards Nakul and call the Ambulance from his phone . Swaran fails to connect Nakul Number. Anxious Swaran calls her husband to ask about Nakul. Kawal realises that Swaran is worrying for Nakul hearing her hiccups. He asks her not to worry as he had a talk with Nakul recently. He also calms her down saying that hiccups must be due to Swaran eating Samosa with green chutney.
15 years back, Nakul has an argument with his brother Vikram. Vikram gets irritated with Nakul and runs behind him. Swaran starts to get hiccups. Vikram's throws Flower vase at Nakul, Swaran stops it using her duppatta but Nakul gets a cut on his forehead. Nakul says his mother is his real superhero who can save him anywhere, anytime even by using a duppatta. In the kitty party Swaran gets hiccups again. She prays to God for Nakul's well being and ties a knot at the corner of her duppatta as a symbol of protection for his son. In the Hospital doctor tells that Nakul is fine. He has minor injuries and has few stitches. Kiran hugs Nakul but he says that he is safe for his mother's blessings only and regrets for talking rudely with her. Kiran says that it's okay, Nakul is no more a kid but Nakul says that his father said right in the call.
Kiran checks Nakul's phone and gets angry seeing missed calls from Swaran. She calls Kanwaljeet from Nakul's phone and put it on hold. She says Nakul that his father is responsible for his accident and he has problem with Kiran. She tries hard to instigate him against his father and cuts the call. Kanwaljeet understands that the call is made by Kiran delibarately and she aims to take Nakul away from his parents. Swaran's friend shows her pictures of Nakul celebrating his birthday. Swaran feels relieved. In the party Swaran sees a young girl who is originally daughter of Crorepati parents. Her parents disown her as she is married to someone going against her parents. Swaran wonders how can parents do such things with their children. Few years back, Swaran and Kanwaljeet approve Kiran for Nakul. Swaran says his husband that Nakul will change Kiran for good.
Present day, Kawaljeet feels uneasy, he says Nakul is responsible for all the things happening. He knew Kiran is not right girl who has made Nakul her puppet now. Vikram tries to call Swaran to inform about Nakul. Kiran stops him saying she will disturb Nakul if she gets to know about the accident. Swaran recieves some gifts at the kitty party .

She gets happy seeing cufflings and says those will look good on Kawaljeet on their Anniversary.Maid enters Kawaljeet's room and gets shocked seeing him lying on the floor. She tries to wake him up but fails. Swaran recieves call from her and gets dumbstruked. Maid tries to reach the neighbours for help. Kiran's mother who is one of the neighbours hides behind curtain to avoid the calls. Swaran's tries to reach them as soon as possible. She communicates with the maid over call. She tries to give Kawal strength over call and wake him up. On the other hand Kiran recieves a call from her mom who makes her aware of the incident and ask her not to let Nakul get influenced by his parents. Swaran calls Nakul but fails to connect.
Nakul asks Kiran to pass his phone for calling his mother. Kiran calls Yug to avoid his request. Helpless Swaran thinks about calling Kawal but starts crying realising her misery. Yug informs them that Swaran gave him 5 Lac rupees. Swaran reaches hospital and runs towards the ICU to see Kawal. Vikram complains Kiran for not letting Nakul talk with Swaran yet. Swaran enters the ICU but nurses sent her out of ICU. She sees through the glass window. Swaran feels uneasy but her friend calms her down. Doctor informs Swaran that Kawaljeet has a mild Stroke.
Click to read