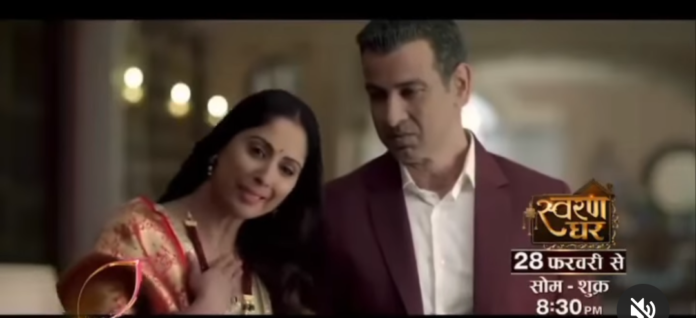 Swaran Ghar 21st November 2022 Written Update On SerialGossip.in
In today's episode, Balli asks Chandni why she shifted Saroj's luggage. Chandni says that she has two reasons. One, Balli needs someone in his room to take care of him 24/7. Two, the flush of Saroj's bathroom is not working after yesterday's incident. Saroj says that Chandni has tampered the flush, also she spiked her food. Balli asks if this is true. Chandni says that she didn't do anything. Balli orders her to shift Saroj's luggage in her room and repair the flush immediately. He asks Saroj to not take stress about Swaran.
Saroj tells him that she wants to teach her a good lesson. Doctor checks Ajit and acknowledge his improvement before Jai. Jai hugs Ajit and asks him to recover soon. Doctor finds the pamplet of Chandni and recognises her. Saroj mocks Chandni for trying to instigate Balli against her and failing. Chandni doesn't give her attention and leaves with Bebe. They go to another room. Swaran calls Saroj from behind and informs her about the flush. Chandni and Bebe hears everything and laugh. Saroj gets confused and scared seeing Swaran and goes to Balli. She tells Balli whatever happened.
Chandni comes there with Bebe and acts innocent. Balli asks everyone to come to that room. Saroj, Balli, Chandni enter into the room after Balli. Saroj gets restless when she doesn't find Swaran there. Swaran hides herself in the cupboard. Saroj tells Balli that there are two Swarans. Chandni asks Saroj if she is drunk again. Saroj says that she is in her senses. She searches for another Swaran. She asks Balli to look in the cupboard. Balli opens wrong cupboard and fails to find Swaran. He scolds Saroj and leaves. Saroj leaves after him. Swaran comes out of the cupboard and asks Chandni to leave as she wants to handle the situation.
Chandni asks Swaran to go to Ajit as she can manage. Swaran agrees and leaves. While Swaran tries to enter Jai's place to meet Ajit, Balli catches her red handed. He asks her who is inside. Swaran says none. He tries to see. Swaran tries to stop him but fails. Balli spots Ajit. Swaran begs him to spare Ajit. Balli pushes her away. Balli says that Swaran has cheated him and his mother. He twists Swaran's hand and tries to choke her. Swaran calls Ajit. Ajit opens his eyes and holds Balli's hand. He falls on the floor but manages to block Balli's leg.
Ajit asks Balli to not touch Swaran. Balli says that he will touch her infront of Ajit. Ajit takes a brick and hits on Balli's leg. Balli does not stop. Ajit then takes a knife. Balli uses Swaran as his shield and leaves. Swaran hugs Ajit and gets happy tears. She gives him water. She calls Jai, informs him about Ajit and asks him to come immediately. Ajit points at Swaran's sindoor. He cries and says that he knows everything but could not do anything as he was helpless. Swaran says that she doesn't need anything more as Ajit is fine now. She calls Chandni asks her to meet her outside Swaran Ghar. She also calls Yug and asks him to come with his car.
Ajit asks her the matter. Swaran says that she will tell him everything later. Ajit wishes to go with Swaran. Swaran asks him to promise that he won't move from there. Jai comes there and hugs Ajit. Swaran asks him to shift with Ajit as Balli knows the address. She bids Ajit bye and promises to meet him soon. She gets into Yug's car and tells him whatever happened. Jai informs Divya about Ajit. Doctor brings police at Jai's place to search Chandni. Jai doesn't spill the beans. He tries to contact both Swaran and Chandni buts his phone becomes dead.
Swaran worries for Chandni as Balli may not spare her if she comes infront of him. Swaran tells Yug that she will protect Chandni from both police and Balli. She meets Chandni. Chandni asks about Ajit. Swaran says that Ajit is fine now. She then informs her about Balli. Police arrives there. Swaran takes Chandni's bag and knife and asks Chandni to leave. Chandni hides behind a tree and observes everything. Swaran tells police that she is Chandni and dressed like Swaran Bedi for a mission. Police arrests Swaran. The episode ends.
Also See: