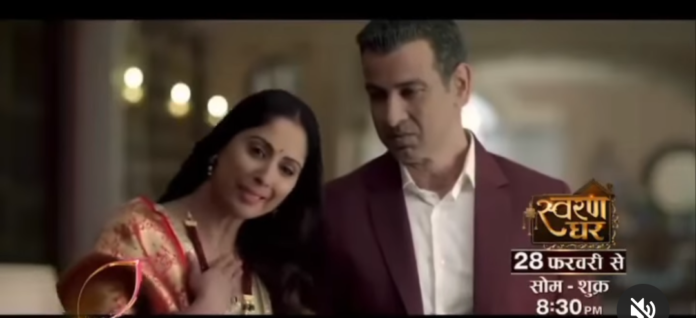 Swaran Ghar 29th July 2022 Written Update on SerialGossip.in
Today's episode starts with Arjun enquiring about Swaran to Mrs. Gupta. Mrs. Gupta says that Swaran came as cook but she doesn't know her name. Arjun says that it was really important for him to find her. He shows his disappointment towards Rajeshwari for misbehaving with Swaran even after knowing that she saved his life twice. Gulabo asks Swaran for her commision. Swaran happily gives it to her. She says that Gulabo not only give her work but confidence too. Gulabo doesn't get that. Swaran laughs.
The neighbor again tries to misbehave with Swaran. Swaran says that she will gather people and slap him. She asks him to get lost. The neighbor leaves. Swaran feels great about herself as she is learning to deal with the world.
Swaran tells Bebe that she got many things from the shop and will prepare food. Ajit sees that Swaran's foot is hurt. She signs Ajit not to tell Bebe. She asks what Ajit is doing there. Ajit says that he came there for Bebe. Swaran says that she didn't get scared of the fight and took the money of her rights today.
Bebe recalls Vikram. Vikram calls Bebe. Kiran takes his phone and asks her to not call her. Vikram says that he is feeling bad for speaking rudely to Bebe. Nimmo says that Swaran and Bebe ignored her at the restaurant, they have so much money to spend. Vikram, Kiran and Nimmo decide to do party at Swaran Ghar.
Vikram says that he wants to come out of his grief. Swaran learns from Ajit that Bebe called Vikram. She asks Bebe if she needed anything. Bebe says that she wants to lessen Swaran's burden as she can't help Swaran in anyway. Swaran cries and says that she really felt bad hearing Bebe's words. She calls Bebe her inspiration not burden.
Bebe Complains about Swaran lying about teaching little kids but actually going to cook at someone's house. Ajit says that Bebe heard their conversation when she called him earlier. Swaran says that it's important for her to work. Bebe says that it will harm their respect, she can't let Swaran do it.
Swaran says that they have left all these stuff behind when they left Swaran Ghar. She asks Ajit why he didn't make Bebe understand. Ajit tells Swaran that he will arrange a good place and food until Swaran get some good work. He says that he will not let Swaran work at someone else's house.
Swaran says that Kanwaljeet gave him Swaran's responsibility but he didn't give him right to take decisions on behalf of her. Ajit reminds Swaran how the neighbor misbehaved with Swaran. Swaran says that she can handle it as she is gaining her confidence. Swaran asks Ajit to leave.
Ajit leaves. Arjun thinks of Swaran. Ajit hears RJ Tanha's show. Swaran asks Bebe if she is okay. Bebe says yes. Swaran asks her to take rest. She gets a call. She sees Ajit's name and disconnects the call. Ajit calls her again. The episode ends.
Swaran Ghar 28th July 2022 Written Update:
Today's episode starts with Mrs. Gupta instructing Swaran to wash her hand and bring hot water for Nimmo. Swaran goes inside. Swaran recalls whatever happened and cries while cleaning her hand. Arjun's sister Rajeshwari Deol arrives at the party. Mrs. Gupta calls Swaran to serve her orange juice. Swaran decides to not fall weak, finish her work, recieve her payment and leave as she needs money to buy Bebe's medicine and Yug. Swaran stands up again and bring the juice to serve. Swaran and Rajeshwari sees each other. Rajeshwari asks Mrs. Gupta what Swaran is doing at the party. Mrs. Gupta introduces Swaran as the cook of her party.
Rajeshwari looks down upon Swaran. She tells that she won't stay if Mrs. Gupta doesn't kick out Swaran immediately. Mrs. Gupta orders Swaran to leave. Swaran says that she will leave once she receives her payment. Mrs. Gupta says that she won't make any payment as Swaran broke her expensive German set and troubled her guests. She also says that she has recording of CCTV footage which will prove Swaran guilty.
Nimmo enjoys Swaran's insult and plans to record vedio to send Kiran. Mrs. Gupta threats Swaran to call the police. Swaran shuts the main door and locks it. Nimmo records video. Swaran asks Mrs. Gupta to call the police as the door will open only after she receives her payment. Rajeshwari says that she will call commissioner of police to teach Swaran a lesson.
Swaran stands tall. Mrs. Gupta says that Swaran gave her loss of 50000 rupees by breaking the German set. Swaran says that she didn't break them. Rajeshwari asks Swaran if she has any proof. Swaran says that Mrs. Gupta has proof as the CCTV footage will clearly show that the German set was broken by Mrs. Gupta's son not her.
Nimmo asks Swaran about the planner chilli with stone. Swaran says that she has kept that in kitchen, police will come and investigate it. She asks Nimmo to keep quiet. Rajeshwari asks Swaran to think again as she may not be able to stand tall Infront of so many of them. Swaran says that she will leave after unlocking the door with payment keeping her head held high. Rajeshwari asks Swaran to take her money and leave.
Swaran says that she will take payment from Mrs. Gupta only for whom she has worked and she won't leave without taking her payment. Mrs. Gupta gives Swaran her payment. Swaran returns Nimmo the panner she spitted on Swaran's hand earlier. Swaran tells Rajeshwari that today she took her legitimate money like that day only and she hopes her brother is sound now.
Swaran unlocks the door and goes outside. She breaks into tears of joy and feels proud about herself. Arjun arrives there to pick Rajeshwari but he doesn't spot Swaran. Nimmo tries to be friendly with Rajeshwari but she insults Nimmo. Arjun learns from Rajeshwari that the lady who saved his life came as cook for the party. Arjun runs outside. Swaran takes auto and leaves. The episode ends.
Click to read: